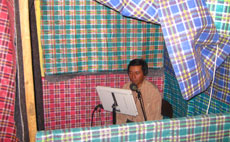 April 1999: Achí boy captivates audience with Scripture
Rabinal — Listening in silence, the people hung on every word from the six-year-old.
Beginning in Chapter 9 of Luke's Gospel, the Achí boy began to recite Scripture.
The usual commotion from children had ceased. The film would wait; the pastor's sermon as well.
People were amazed at what they were hearing.
Beginning with Jesus sending out the 12 disciples, the boy continued from memory, recounting how Jesus fed the 5,000, called his disciples to self-denial, healed a boy, and resolved a dispute over who was the greatest.
"Without any help, the little guy began to proclaim the Word of God," said Rodrigo Barrera, a Bible translator working with the Achi people. "I say 'proclaim' because to say that he recited doesn't do justice to the authority and quality of expression that he put in the intonation, announcing each word of the Gospel.
"The power and fluidity also reflected a good understanding of what he was saying."
The boy's speech came as a surprise for the people. Hundreds had gathered as they had for several nights during Holy Week for worship, a sermon and a Gospel film in their Achí language.
But as the boy proclaimed parable after parable, passage after passage, the people listened silently with reverence.
The boy continued on to Chapter 10 as Jesus sent out the 70 disciples and then told the parable of the Good Samaritan.
When the boy's arm tired of holding the microphone, he switched to the other hand.
Moments earlier, the boy's father had explained that the boy had not yet learned to read. But the boy was fascinated by audio Scriptures that had been loaned to the family for its devotions.
He had been so interested that he began to play them again and again, managing to memorize the passages.
As he reached Chapter 11, the boy's voice became strained and gravelly, but he continued with the same enthusiasm, relating the Lord's Prayer, admonitions to pray without ceasing, a rebuke against unbelieving hearers and against the Pharisees.
Finally, 158 verses later, the boy finished.
No one preached that night. No one invited people to follow Christ or to come forward. But conviction fell over the people and half of them were led by the Spirit to go forward to pray fervently for revival in their lives.
Building on the foundation of translated Scriptures, Viña is producing dramatized audio recordings that are impacting the thousands of people who are hearing the Word.
"…faith comes from listening to this message of good news—the Good News about Christ." (Rom. 10:17 NLT)